How Can We Help You?
Chiropractic care is a conservative (non-drug, non-surgical) treatment to musculoskeletal conditions. Chiropractic is proven to be one of the most effective means in treating headaches, back pain and joint pain. Chiropractic care may be an option for you if you have any of the following:
Recurring or chronic headaches
Pain or stiffness in the neck from whiplash or other causes
Pain, stiffness, or numbness in back or shoulders
Sciatic or sacroiliac pain
Pain, stiffness, or numbness in joints, legs, arms, or hands
Sprains, strains, or muscle spasms
Lower back pain
Mid back/Rib pain
Disc herniation
Lumbar Spinal Stenosis
Physical activity/Sports injuries
Post surgical rehabilitation
Management of chronic inflammatory diseases such as arthritis, degenerative disc disease, disc herniations
Other aches or pains in your structural muscular and nervous system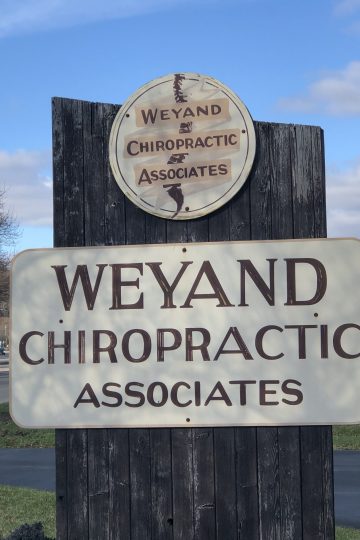 McKenzie Mechanical Diagnosis and Therapy (MDT)
MDT is a comprehensive, evidence based clinical examination and diagnostic management system of patient care. The examination, evaluation, diagnosis, prognosis, intervention and prevention strategies for back, neck and extremity problems are aimed at patient education and independence.
Dr Weyand is Certified in MDT through the McKenzie Institute.
Cox Flexion Distraction Technique
Cox Flexion Distraction is a gentle, non-force adjustment procedure to help the spine heal naturally. The goal of Flexion Distraction is to provide decompression to the spine by applying gentle traction to the lower spine.
Diversified Chiropractic Technique
Diversified Chiropractic Technique is the most commonly used adjustment technique by chiropractors, as reported by the American Chiropractic Association. Diversified Chiropractic Technique is characterized by a high velocity low amplitude thrust. Diversified technique has three main objectives. These are to restore spinal alignment, repair joint dysfunction and enhance proper motion.
Spinal manipulation has both biomechanical and neurophysiological effects on the spine.
Therapeutic Exercises
Therapeutic exercises including stretching and releasing tight muscles and activating and strengthening inhibited or weak muscles is an important part of the treatment plan. Specific spinal stabilization exercises are important in helping to achieve maximum functional recovery and help in prevention of future episodes. Exercise is always important in helping patients reach their functional goals.
Neuromobilization
Neuromobilization is a technique to treat nerves that may be adhered, irritated or compressed. Many patients present with a chronic history of referred symptoms like pain, numbness or tingling into the arms or legs may respond to neuromobilization. All patients who present with radicular symptoms in the extremities will be evaluated with a complete neural dynamic exam. Neuromobilization techniques can also be patient generated movements to be performed at home.